Sleep Apnea
Obstructive Sleep Apnea
Your sleep impacts every aspect of your health and daily life. Sleeping well helps you look, feel and perform your best. But a sleep problem can be harmful to your health and well-being. One of the most common sleep problems is obstructive sleep apnea. Learn more about the warning signs and how you can get help.
About Obstructive Sleep Apnea
Nearly 30 million adults in the U.S. have obstructive sleep apnea (OSA), which can cause them to stop breathing hundreds of times a night for anywhere from a few seconds to more than a minute.

Sleep apnea is a chronic condition that occurs when your muscles relax during sleep, allowing soft tissue to collapse and block the airway. As a result, repeated breathing pauses occur, which often reduce your oxygen levels. These breathing pauses are followed by brief awakenings that disturb your sleep.

Common signs of sleep apnea include snoring and gasping or choking sounds during sleep. Like snoring, sleep apnea is more common in men, but it can occur in women too, especially during and after menopause. Having excess body weight, a narrow airway or misaligned jaw all increase the risk of sleep apnea.
Is Treating OSA Important?
Treating obstructive sleep apnea is incredibly important to your health. When left untreated, sleep apnea often causes excessive daytime sleepiness or fatigue, as well as morning headaches and memory loss. Sleep apnea also is a threat to your safety as it increases your risk of drowsy driving and workplace accidents. Untreated sleep apnea raises your risk for serious health problems. These include:
High blood pressure
Stroke
Heart disease
Diabetes
Chronic acid reflux
Erectile dysfunction
Severe, untreated sleep apnea even increases your risk of death.
How is OSA Diagnosed?
Kleinheinz Dentistry is proud to offer a Free Sleep Study. Call our office for more information. 704-542-6003.
How is OSA Treated?
Dr. Kleinheinz can discuss treatment options with you. We will provide a FREE SLEEP STUDY at your convenience.
Oral appliance therapy uses a mouth guard-like device - worn only during sleep - to maintain an open, unobstructed airway.
Research shows that oral appliance therapy is an effective treatment option for snoring and obstructive sleep apnea. An oral appliance is worn in the mouth only while you sleep and fits like a sports mouth guard or an orthodontic retainer. Oral appliances support your jaw in a forward position to help maintain an open upper airway.

Many patients consider a sleep apnea appliance to be more comfortable to wear than a CPAP mask. Oral appliances also are quiet, portable and easy to care for.

If you decide that oral appliance therapy is the best treatment option for you, then Dr. Kleinheinz will recommend a prescription for you to receive a custom-made sleep apnea appliance. More than 100 oral appliances have received FDA clearance. We prescribe and make the FDA approved appliances. Oral appliance therapy is covered by many medical insurance plans. We will do a complete benefits check upon your scheduled appointment.
Many individuals who have no teeth in one or both jaws find removable dentures an economical way to restore their smiles. Yet dentures are not always so easy to wear. Sometimes they slip when you try to eat or speak. It happens more often with a lower denture, which can easily become dislodged by the tongue — a more powerful muscle than you might think. A loose denture can make you feel self-conscious, and prevent you from eating a nutritious diet. Removable dentures will also cause bone loss in the jaw over time by pressing down on the bony ridges that formerly supported the teeth. Fortunately, there's a simple way to prevent all of these problems: supporting your removable dentures with dental implants.
You may have heard about dental implants acting as lifelike replacements for individual missing teeth, and that's certainly of great benefit to those who still have many of their natural teeth. But when you have no teeth left in one or both jaws, putting in a dental implant for every tooth is not economically feasible, nor is it necessarily desirable. An excellent solution is simply to place as few as two dental implants in the lower jaw to support a removable denture so that it does not come loose when worn. An implant-supported removable denture can — and should — still be taken out for cleaning and maintenance.
How It Works
Dental implants are small titanium posts that serve the same purpose as the roots of natural teeth: They anchor replacement teeth to your jawbone. Like natural tooth roots, they lie beneath the gum line and are therefore not visible in the mouth. Because titanium has the unique ability to fuse to living bone, your dental implants actually become a part of your jawbone and help to preserve its volume and density — an important consideration for your health and appearance (Learn More). When a denture is secured by implants, it does not press down on your bone tissue in a destructive way, and it will remain in position as you eat, speak and smile. This has a very positive impact on quality of life.
It usually takes only two implants to support a lower denture, though every individual is unique and we will have to examine you to determine what would work best in your case. Retaining an upper denture requires a greater number of implants, usually a minimum of four, because of anatomical differences between the upper and lower jaws. If you already wear a denture, we may be able to modify it to become an implant-supported denture. Or we will have a new one made for you.
What to Expect
Dental implant surgery is a simple, routine procedure carried out in the dental office under local anesthesia in most cases. After numbing the area, an appropriate number of implants will be placed in your jaw at precisely planned angles and positions to maximize support and avoid anatomical structures such as nerves and sinuses. Depending on how many implants you will need, the surgery can take anywhere from one to three hours. Most people who have dental implants placed find that any post-operative discomfort can be managed with over-the-counter anti-inflammatory medication such as ibuprofen or acetaminophen.
After surgery, your implants will need to complete the process of fusing to your jawbone (known as osseointegration), before they can support your denture(s). This takes at least six weeks and is different for everyone. During this healing period you will not be without teeth, however, because you can wear a denture that is modified so that it does not overstress the implants. When healing is complete, we will show you how to hook your denture onto the supporting implants (and take it off again) so you can experience the security of teeth that don't move — and all the benefits that go along with them.
Related Articles
Implant Overdentures for the Lower Jaw Implant overdentures represent a major change for the dental profession and the public. The lower jaw two-implant overdenture may be considered a more appropriate starting point over regular dentures... Read Article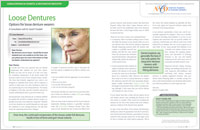 Loose Dentures Loose dentures are a common problem for people who wear full (complete) dentures, especially after years of use. Whether or not new dentures are needed depends not only upon the condition of the existing dentures, but also upon how much the tissues supporting them have changed... Read Article