Sleep Apnea
Obstructive Sleep Apnea
Your sleep impacts every aspect of your health and daily life. Sleeping well helps you look, feel and perform your best. But a sleep problem can be harmful to your health and well-being. One of the most common sleep problems is obstructive sleep apnea. Learn more about the warning signs and how you can get help.
About Obstructive Sleep Apnea
Nearly 30 million adults in the U.S. have obstructive sleep apnea (OSA), which can cause them to stop breathing hundreds of times a night for anywhere from a few seconds to more than a minute.

Sleep apnea is a chronic condition that occurs when your muscles relax during sleep, allowing soft tissue to collapse and block the airway. As a result, repeated breathing pauses occur, which often reduce your oxygen levels. These breathing pauses are followed by brief awakenings that disturb your sleep.

Common signs of sleep apnea include snoring and gasping or choking sounds during sleep. Like snoring, sleep apnea is more common in men, but it can occur in women too, especially during and after menopause. Having excess body weight, a narrow airway or misaligned jaw all increase the risk of sleep apnea.
Is Treating OSA Important?
Treating obstructive sleep apnea is incredibly important to your health. When left untreated, sleep apnea often causes excessive daytime sleepiness or fatigue, as well as morning headaches and memory loss. Sleep apnea also is a threat to your safety as it increases your risk of drowsy driving and workplace accidents. Untreated sleep apnea raises your risk for serious health problems. These include:
High blood pressure
Stroke
Heart disease
Diabetes
Chronic acid reflux
Erectile dysfunction
Severe, untreated sleep apnea even increases your risk of death.
How is OSA Diagnosed?
Kleinheinz Dentistry is proud to offer a Free Sleep Study. Call our office for more information. 704-542-6003.
How is OSA Treated?
Dr. Kleinheinz can discuss treatment options with you. We will provide a FREE SLEEP STUDY at your convenience.
Oral appliance therapy uses a mouth guard-like device - worn only during sleep - to maintain an open, unobstructed airway.
Research shows that oral appliance therapy is an effective treatment option for snoring and obstructive sleep apnea. An oral appliance is worn in the mouth only while you sleep and fits like a sports mouth guard or an orthodontic retainer. Oral appliances support your jaw in a forward position to help maintain an open upper airway.

Many patients consider a sleep apnea appliance to be more comfortable to wear than a CPAP mask. Oral appliances also are quiet, portable and easy to care for.

If you decide that oral appliance therapy is the best treatment option for you, then Dr. Kleinheinz will recommend a prescription for you to receive a custom-made sleep apnea appliance. More than 100 oral appliances have received FDA clearance. We prescribe and make the FDA approved appliances. Oral appliance therapy is covered by many medical insurance plans. We will do a complete benefits check upon your scheduled appointment.
Imagine this: An implant surgeon is performing a thorough examination of your mouth. The surgeon rotates your jaw from side to side and up and down, looking for the optimal sites in which to place dental implants — and the proper size, shape and orientation for the implants to have. He or she may test several alternatives, considering the underlying anatomical structures, and the bone density and quality that the examination reveals. Finally, a surgical plan is developed: This includes a set of precise specifications for implant position, size and depth, and a template for creating a perfectly fitting set of replacement teeth. But no invasive procedures of any type have been performed so far. In fact, you aren't even present.
Welcome to the world of computer-guided dental implant surgery. What we have described is one step in the process that allows you to receive a set of replacement teeth with the minimum amount of surgery (and time spent in the dental chair), and the maximum level of preplanning foresight. It can result in faster overall treatment time, less discomfort, and an outcome that pleases everyone. Let's look a little more closely at the entire process of computer-guided implant surgery — a procedure at the forefront of dental implant technology.
The First Phase: Making A Virtual Model
It all begins with a complete examination and modeling of your existing teeth, gum and jaw structures. In many cases, a physical impression (replica) of the jaws is made, which will aid in planning the location of the new teeth. But the modeling doesn't stop there: A high-tech, three-dimensional CT (computed tomography) scan is also performed. This allows us to examine the structures (including bone, nerve tissue and sinus cavities) which lie inside the jaw. It is often accomplished using "cone-beam" CT technology, in which the scanning device quickly captures a complete digital image of internal structures as it rotates around your head.
The next step of the process relies on powerful computers and sophisticated software to take the raw CT scan data and translate it into a 3-D model of the jaw. This virtual model can be manipulated on a computer screen — rotated, measured, even "operated" on — so that we can visualize the placement of dental implants and determine their optimum position with a high degree of accuracy. Using this technology, it's now possible for us to evaluate anatomical structures virtually — structures it once would have taken surgery to reveal — and to plan out the implant procedure accordingly.
The 3-D model we have developed is then used for two purposes: to create a precise guide for the implant surgery, and to allow the dental laboratory to pre-manufacture a set of replacement teeth that will fit precisely in the jaw. An advanced set of CAD/CAM (computer aided design/manufacture) processes is used to generate the physical objects — in this case, the surgical guide and the prosthetic teeth. Depending on your individual situation, the new teeth may be attached the same day as implant surgery, or after a healing period of 6 to 12 weeks. In either case, our precision modeling ensures that they will fit perfectly with the implants and the jaw.
Implant Surgery: Following the Plan
The implant surgery itself is typically performed under local anesthesia, and often requires no sutures (stitches). In the surgical procedure, the template we have produced (which resembles a nightguard or athletic mouthguard) is securely (but temporarily) fixed in position on the jaw. The openings in this template form precise guides for the placement of the implants — accurate in terms of position, width and depth. In fact, the implants fit so perfectly into these prepared sites that we can have new teeth placed the same day as implant surgery.
Since so many of the details have been accomplished in the planning stages, computer-guided implant surgery is typically uneventful for the patient. It can result in shorter time in the chair, less discomfort during recovery — and a highly pleasing result. It has even been called the most significant innovation in implant technology since osseointegration — the fundamental process by which a dental implant becomes fused with the bone.
Related Articles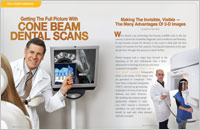 Getting The Full Picture With Cone Beam Dental Scans Dental imaging took a major leap forward at the beginning of the new millennium with a three-dimensional technology known as cone beam computed tomography (CBCT). The name comes from the cone-shaped beam of x-rays the CBCT machine projects as it rotates around a person's head, taking multiple images that are compiled into a 3-D picture by a computer. Find out what CBCT can reveal and how it helps a doctor to make a highly informed diagnosis and choice of treatment... Read Article
Creating In-Office Dental Restorations With Computers Once upon a time, dentists — and patients — needed to wait weeks for a dental laboratory to make crowns and other dental restorations. Now, with an exciting digital technology known as Computer-Aided Design/Computer-Aided Manufacturing (CAD/CAM), some dentists are fabricating high-quality restorations themselves right in their own offices — in minutes... Read Article