Sleep Apnea
Obstructive Sleep Apnea
Your sleep impacts every aspect of your health and daily life. Sleeping well helps you look, feel and perform your best. But a sleep problem can be harmful to your health and well-being. One of the most common sleep problems is obstructive sleep apnea. Learn more about the warning signs and how you can get help.
About Obstructive Sleep Apnea
Nearly 30 million adults in the U.S. have obstructive sleep apnea (OSA), which can cause them to stop breathing hundreds of times a night for anywhere from a few seconds to more than a minute.

Sleep apnea is a chronic condition that occurs when your muscles relax during sleep, allowing soft tissue to collapse and block the airway. As a result, repeated breathing pauses occur, which often reduce your oxygen levels. These breathing pauses are followed by brief awakenings that disturb your sleep.

Common signs of sleep apnea include snoring and gasping or choking sounds during sleep. Like snoring, sleep apnea is more common in men, but it can occur in women too, especially during and after menopause. Having excess body weight, a narrow airway or misaligned jaw all increase the risk of sleep apnea.
Is Treating OSA Important?
Treating obstructive sleep apnea is incredibly important to your health. When left untreated, sleep apnea often causes excessive daytime sleepiness or fatigue, as well as morning headaches and memory loss. Sleep apnea also is a threat to your safety as it increases your risk of drowsy driving and workplace accidents. Untreated sleep apnea raises your risk for serious health problems. These include:
High blood pressure
Stroke
Heart disease
Diabetes
Chronic acid reflux
Erectile dysfunction
Severe, untreated sleep apnea even increases your risk of death.
How is OSA Diagnosed?
Kleinheinz Dentistry is proud to offer a Free Sleep Study. Call our office for more information. 704-542-6003.
How is OSA Treated?
Dr. Kleinheinz can discuss treatment options with you. We will provide a FREE SLEEP STUDY at your convenience.
Oral appliance therapy uses a mouth guard-like device - worn only during sleep - to maintain an open, unobstructed airway.
Research shows that oral appliance therapy is an effective treatment option for snoring and obstructive sleep apnea. An oral appliance is worn in the mouth only while you sleep and fits like a sports mouth guard or an orthodontic retainer. Oral appliances support your jaw in a forward position to help maintain an open upper airway.

Many patients consider a sleep apnea appliance to be more comfortable to wear than a CPAP mask. Oral appliances also are quiet, portable and easy to care for.

If you decide that oral appliance therapy is the best treatment option for you, then Dr. Kleinheinz will recommend a prescription for you to receive a custom-made sleep apnea appliance. More than 100 oral appliances have received FDA clearance. We prescribe and make the FDA approved appliances. Oral appliance therapy is covered by many medical insurance plans. We will do a complete benefits check upon your scheduled appointment.
They are inside your laptop computer and your DVD player, present on the factory floor and the supermarket checkout line. And now, lasers are finding increasing use in dentistry. Someday soon, you may have a routine dental procedure performed with the aid of a powerful, yet highly controllable beam of laser light, instead of a drill or a probe.
What are dentists currently using lasers for? These devices have been proven to help in the detection and treatment of oral diseases. They can be used for treating gum disease, detecting cancer, and pinpointing tooth decay in its early stages. They can precisely remove tissue, seal painful ulcerations like canker sores, and even treat small cavities. In the future, dental laser technology will undoubtedly find even more applications.
How Do Lasers Work?
Lasers take advantage of the quantum behavior of electrons, tiny particles inside atoms. By stimulating atoms with pulses of energy, and then using a method of optical amplification, they cause the atoms to produce a beam of coherent light. Essentially, that means that they emit light which has a great deal of energy, yet can be precisely controlled. It's the combination of high energy and precision that make lasers so useful.
Where Are Lasers Being Used?
At present, the use of lasers in dentistry falls into three general categories: disease detection, soft tissue treatments, and hard tissue treatments.
There are many ways lasers can aid in diagnosis. Laser light of specific wavelength, for example, can detect tiny pits and fissures in the biting surfaces of the tooth that a traditional dental tool can't find. This enables a defect that's too small to be treated at present to be carefully monitored. Lasers can also help locate dental calculus (tartar) beneath the surface of the gums, and can even aid in the detection of oral cancer in its early stages, accurately showing where healthy tissue ends and diseased tissue begins.
For the treatment of soft tissue problems, lasers have many advantages. They are minimally invasive tools that generally involve taking away less tissue than conventional methods. Used in gum surgery, for example, lasers can treat gum disease by killing harmful bacteria deep in pockets below the gum line, and removing the diseased tissue without harming the healthy tissue. They can also remove the thin layer of cells that inhibits reattachment of the gum and bone tissues to the tooth, while sealing off the adjacent blood vessels. This type of procedure generally results in less bleeding and pain. Lasers are also effective in treating ulcers and sores on the lips or gums.
Lasers are even finding increasing use for hard-tissue procedures, like the treatment of dental caries and cavities. Not only are they more exact in the amount of material they remove, but they eliminate the noise and vibration of the dental drill, which is uncomfortable for some patients.
As lasers become more common in the dental office, these high-tech tools will be integrated into routine dental practice. This promising technology already offers some real benefits, and is sure to find increasing use in the near future.
Related Articles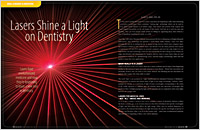 Lasers Shine a Light on Dentistry Lasers have revolutionized medicine and now they're beginning to blaze a new trail in dentistry. Today, at the dawn of the 21st century there are a variety of dental uses for lasers, from diagnosing cavities and the removal of gum and tooth structure to the treatment of disease... Read Article