Sleep Apnea
Obstructive Sleep Apnea
Your sleep impacts every aspect of your health and daily life. Sleeping well helps you look, feel and perform your best. But a sleep problem can be harmful to your health and well-being. One of the most common sleep problems is obstructive sleep apnea. Learn more about the warning signs and how you can get help.
About Obstructive Sleep Apnea
Nearly 30 million adults in the U.S. have obstructive sleep apnea (OSA), which can cause them to stop breathing hundreds of times a night for anywhere from a few seconds to more than a minute.

Sleep apnea is a chronic condition that occurs when your muscles relax during sleep, allowing soft tissue to collapse and block the airway. As a result, repeated breathing pauses occur, which often reduce your oxygen levels. These breathing pauses are followed by brief awakenings that disturb your sleep.

Common signs of sleep apnea include snoring and gasping or choking sounds during sleep. Like snoring, sleep apnea is more common in men, but it can occur in women too, especially during and after menopause. Having excess body weight, a narrow airway or misaligned jaw all increase the risk of sleep apnea.
Is Treating OSA Important?
Treating obstructive sleep apnea is incredibly important to your health. When left untreated, sleep apnea often causes excessive daytime sleepiness or fatigue, as well as morning headaches and memory loss. Sleep apnea also is a threat to your safety as it increases your risk of drowsy driving and workplace accidents. Untreated sleep apnea raises your risk for serious health problems. These include:
High blood pressure
Stroke
Heart disease
Diabetes
Chronic acid reflux
Erectile dysfunction
Severe, untreated sleep apnea even increases your risk of death.
How is OSA Diagnosed?
Kleinheinz Dentistry is proud to offer a Free Sleep Study. Call our office for more information. 704-542-6003.
How is OSA Treated?
Dr. Kleinheinz can discuss treatment options with you. We will provide a FREE SLEEP STUDY at your convenience.
Oral appliance therapy uses a mouth guard-like device - worn only during sleep - to maintain an open, unobstructed airway.
Research shows that oral appliance therapy is an effective treatment option for snoring and obstructive sleep apnea. An oral appliance is worn in the mouth only while you sleep and fits like a sports mouth guard or an orthodontic retainer. Oral appliances support your jaw in a forward position to help maintain an open upper airway.

Many patients consider a sleep apnea appliance to be more comfortable to wear than a CPAP mask. Oral appliances also are quiet, portable and easy to care for.

If you decide that oral appliance therapy is the best treatment option for you, then Dr. Kleinheinz will recommend a prescription for you to receive a custom-made sleep apnea appliance. More than 100 oral appliances have received FDA clearance. We prescribe and make the FDA approved appliances. Oral appliance therapy is covered by many medical insurance plans. We will do a complete benefits check upon your scheduled appointment.
When advanced gum disease (periodontitis) develops, your teeth are in danger: At this stage, the ligaments and bone tissue that surround them are being destroyed, and you could even begin losing teeth! If the disease can't be controlled by non-surgical treatments like cleaning and scaling, then periodontal flap surgery may be your best treatment option.
Flap surgery is today's leading method for treating and repairing periodontal pockets. What are these "pockets?" They are areas below the gum line where gum tissue has detached from the teeth, resulting in an uncleansable space where harmful bacteria can proliferate. These bacteria cause inflammation of the tissues, resulting in sensitivity, bleeding, and pain. Left untreated, they can cause a host of problems including gum disease, loss of the tooth-supporting bone structure, and possibly even systemic (whole-body) problems.
When periodontal pockets develop, the first step in treating them is usually via cleaning and scaling (also referred to as root debridement) with a manual or ultrasonic instrument. If this isn't effective, then periodontal surgery is considered. Flap surgery isn't a cure for periodontal disease — but it helps create an environment that makes it easier to maintain your periodontal health. And even if you're prone to gum disease, proper professional treatment and regular care at home can help keep your teeth healthy for as long as possible.
The Goals of Flap Surgery
One major objective of flap surgery is to eliminate or reduce the pocket itself. To access it, a flap-like incision is made in the gum tissue. This allows diseased tissue to be removed from inside the pocket, and provides access to the teeth's root surfaces for a thorough cleaning, which helps to eliminate harmful plaque and calculus (tartar). Afterward, the "flap" is closed, sealing the area. This begins the healing process, which takes place rapidly.
Another goal is the regeneration of periodontal ligament and bone tissue which may have been lost to the disease. A variety of techniques may be used to accomplish this, including high-tech methods of bone grafting and chemicals referred to as growth factors. These approaches help restore the gums to their normal form and function, and promote the healthy and secure anchoring of teeth.
The Flap Surgery Procedure
Flap surgery is typically done under local anesthesia, sometimes accompanied by oral anti-anxiety medications; alternatively, it may be performed under intravenous conscious sedation. After anesthesia has taken effect, a small incision is made to separate the gums from the teeth. The outer gum tissue is gently folded back to give access to the roots and the supporting ligament and bone tissue.
Next, the inflamed gum tissue can be removed, and the tooth roots can be cleaned; if needed, the area may also be treated with antibiotics or other medications. Bone defects can be repaired with grafting material, and proper regeneration of the periodontal ligament can be encouraged by physical (barrier membranes) and chemical (growth factors) methods. Finally, the incision is closed and the procedure is completed.
Performed by an experienced hand, state-of-the-art flap surgery has an excellent track record and offers well-established benefits. It's often the treatment of choice for relieving periodontal disease and helping to maintain your oral health — and preserve your teeth.
Related Articles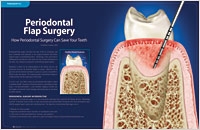 Periodontal Flap Surgery Most surgical patients are surprised by how comfortable the experience of flap surgery is and how painless it is afterward. Today's highly sophisticated and meticulous techniques allow the periodontal surgeon to reconstitute, regenerate, and reconstruct lost and destroyed tissues. Find out how periodontal surgery can prolong the life of your teeth... Read Article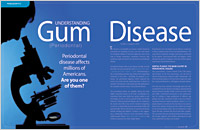 Understanding Gum (Periodontal) Disease Have your gums ever bled when you brushed or flossed? This most commonly overlooked simple sign may be the start of a silent progressive disease leading to tooth loss. Learn what you can do to prevent this problem and keep your teeth for life... Read Article