Sleep Apnea
Obstructive Sleep Apnea
Your sleep impacts every aspect of your health and daily life. Sleeping well helps you look, feel and perform your best. But a sleep problem can be harmful to your health and well-being. One of the most common sleep problems is obstructive sleep apnea. Learn more about the warning signs and how you can get help.
About Obstructive Sleep Apnea
Nearly 30 million adults in the U.S. have obstructive sleep apnea (OSA), which can cause them to stop breathing hundreds of times a night for anywhere from a few seconds to more than a minute.

Sleep apnea is a chronic condition that occurs when your muscles relax during sleep, allowing soft tissue to collapse and block the airway. As a result, repeated breathing pauses occur, which often reduce your oxygen levels. These breathing pauses are followed by brief awakenings that disturb your sleep.

Common signs of sleep apnea include snoring and gasping or choking sounds during sleep. Like snoring, sleep apnea is more common in men, but it can occur in women too, especially during and after menopause. Having excess body weight, a narrow airway or misaligned jaw all increase the risk of sleep apnea.
Is Treating OSA Important?
Treating obstructive sleep apnea is incredibly important to your health. When left untreated, sleep apnea often causes excessive daytime sleepiness or fatigue, as well as morning headaches and memory loss. Sleep apnea also is a threat to your safety as it increases your risk of drowsy driving and workplace accidents. Untreated sleep apnea raises your risk for serious health problems. These include:
High blood pressure
Stroke
Heart disease
Diabetes
Chronic acid reflux
Erectile dysfunction
Severe, untreated sleep apnea even increases your risk of death.
How is OSA Diagnosed?
Kleinheinz Dentistry is proud to offer a Free Sleep Study. Call our office for more information. 704-542-6003.
How is OSA Treated?
Dr. Kleinheinz can discuss treatment options with you. We will provide a FREE SLEEP STUDY at your convenience.
Oral appliance therapy uses a mouth guard-like device - worn only during sleep - to maintain an open, unobstructed airway.
Research shows that oral appliance therapy is an effective treatment option for snoring and obstructive sleep apnea. An oral appliance is worn in the mouth only while you sleep and fits like a sports mouth guard or an orthodontic retainer. Oral appliances support your jaw in a forward position to help maintain an open upper airway.

Many patients consider a sleep apnea appliance to be more comfortable to wear than a CPAP mask. Oral appliances also are quiet, portable and easy to care for.

If you decide that oral appliance therapy is the best treatment option for you, then Dr. Kleinheinz will recommend a prescription for you to receive a custom-made sleep apnea appliance. More than 100 oral appliances have received FDA clearance. We prescribe and make the FDA approved appliances. Oral appliance therapy is covered by many medical insurance plans. We will do a complete benefits check upon your scheduled appointment.
When you are a child, your first loose tooth can be cause for celebration; when you are an adult, it definitely is not. Biting and chewing with a tooth that is not securely attached in its socket can be difficult or even painful — and any tooth that becomes loose is at risk of needing to be removed or, at worst, falling out. It's often possible to prevent that from happening, but quick action is required.
Causes
The most common reason for tooth looseness is periodontal disease — a bacterial infection of the gum and/or bone tissues that surround and support your teeth. The infection results from bacterial plaque that sits on your teeth in the absence of effective oral hygiene. Over time, periodontal disease will cause gum tissue to detach from the teeth as plaque and tartar formation increases and tooth-supporting bone is lost. As more bone is lost, teeth gradually become loose and are unable to withstand normal biting forces. If severe periodontal disease remains untreated, loose teeth will eventually fall out.
Another common contributor to the loosening of teeth is a clenching or grinding habit that generates too much biting force. This force can stretch the periodontal ligaments that join the teeth to the supporting bone, making your teeth looser. These habits can accelerate bone loss and also cause jaw pain and excessive tooth wear.
Treatment
Just as the causes of loose teeth can be biological (disease) or mechanical (too much force) — or both — so, too, are the treatments. Let's first take a look at the biological approach.
To control gum disease, a dental professional must thoroughly clean the teeth of plaque and harder deposits (tartar or calculus) in which bacteria thrive; this includes the tooth-root surfaces beneath the gum line. At the same visit, you will be instructed on effective oral hygiene techniques and products to use at home. Often this type of deep cleaning, combined with improved oral hygiene, will reduce inflammation and heal the gums enough to cause some tightening of the teeth.
The mechanical approach involves modifying the forces that are applied to the teeth. This can be achieved in a number of ways. For example, an occlusal (bite) adjustment can be performed by carefully reshaping minute amounts of tooth surface enamel. This changes the way upper and lower teeth contact each other, redirecting and lessening the force. Replacing broken fillings and restoring worn teeth is also sometimes needed to create a more balanced bite, even when teeth are not loose.
It is also possible to reduce stresses on teeth by temporarily or permanently splinting them together like fence pickets so that any biting force is distributed among groups of teeth rather than individual loosened teeth. The splint is a very small metal bracket bonded to the backs of or tops of the teeth.
If clenching or grinding habits are a problem, a custom-made bite guard (also called an occlusal splint) can be worn when needed. Placed in the mouth at night or in times of stress, it can protect the teeth from the consequences of too much biting force. This can also be helpful in preventing excessive tooth wear, and sometimes in relieving jaw pain.
Loose teeth can be successfully treated with both biological and mechanical techniques. A thorough examination will be needed to determine the best approach. So if you are experiencing tooth looseness, don't wait — the sooner this problem is addressed, the more likely you are to keep your natural teeth.
Related Articles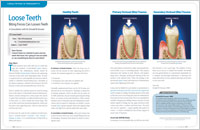 Loose Teeth Tooth looseness is a complex but treatable problem. More often than not, it is a fairly late sign of periodontal (gum) disease. If you are experiencing this, it's important to act fast to try and save your teeth... Read Article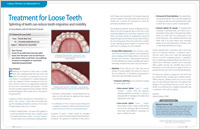 Treatment for Loose Teeth Sometimes very loose teeth can be splinted or joined together like pickets in a fence so that any biting force is distributed among groups of teeth rather than individual loosened teeth. However, before deciding upon a treatment, the long-term prognosis of the teeth must be considered... Read Article