Sleep Apnea
Obstructive Sleep Apnea
Your sleep impacts every aspect of your health and daily life. Sleeping well helps you look, feel and perform your best. But a sleep problem can be harmful to your health and well-being. One of the most common sleep problems is obstructive sleep apnea. Learn more about the warning signs and how you can get help.
About Obstructive Sleep Apnea
Nearly 30 million adults in the U.S. have obstructive sleep apnea (OSA), which can cause them to stop breathing hundreds of times a night for anywhere from a few seconds to more than a minute.

Sleep apnea is a chronic condition that occurs when your muscles relax during sleep, allowing soft tissue to collapse and block the airway. As a result, repeated breathing pauses occur, which often reduce your oxygen levels. These breathing pauses are followed by brief awakenings that disturb your sleep.

Common signs of sleep apnea include snoring and gasping or choking sounds during sleep. Like snoring, sleep apnea is more common in men, but it can occur in women too, especially during and after menopause. Having excess body weight, a narrow airway or misaligned jaw all increase the risk of sleep apnea.
Is Treating OSA Important?
Treating obstructive sleep apnea is incredibly important to your health. When left untreated, sleep apnea often causes excessive daytime sleepiness or fatigue, as well as morning headaches and memory loss. Sleep apnea also is a threat to your safety as it increases your risk of drowsy driving and workplace accidents. Untreated sleep apnea raises your risk for serious health problems. These include:
High blood pressure
Stroke
Heart disease
Diabetes
Chronic acid reflux
Erectile dysfunction
Severe, untreated sleep apnea even increases your risk of death.
How is OSA Diagnosed?
Kleinheinz Dentistry is proud to offer a Free Sleep Study. Call our office for more information. 704-542-6003.
How is OSA Treated?
Dr. Kleinheinz can discuss treatment options with you. We will provide a FREE SLEEP STUDY at your convenience.
Oral appliance therapy uses a mouth guard-like device - worn only during sleep - to maintain an open, unobstructed airway.
Research shows that oral appliance therapy is an effective treatment option for snoring and obstructive sleep apnea. An oral appliance is worn in the mouth only while you sleep and fits like a sports mouth guard or an orthodontic retainer. Oral appliances support your jaw in a forward position to help maintain an open upper airway.

Many patients consider a sleep apnea appliance to be more comfortable to wear than a CPAP mask. Oral appliances also are quiet, portable and easy to care for.

If you decide that oral appliance therapy is the best treatment option for you, then Dr. Kleinheinz will recommend a prescription for you to receive a custom-made sleep apnea appliance. More than 100 oral appliances have received FDA clearance. We prescribe and make the FDA approved appliances. Oral appliance therapy is covered by many medical insurance plans. We will do a complete benefits check upon your scheduled appointment.
There are many elements that make up an ideal smile; bright, healthy-looking teeth immediately come to mind. But the gum tissue that surrounds and supports those teeth also plays a big role in how appealing your smile will look.
There are various cosmetic issues involving gum (gingival) tissue. For example, your smile may look "gummy" — meaning you seem to display too much gum tissue when you smile, or your teeth appear too short. Sometimes it's the opposite problem — your teeth appear too long because your gum tissue has receded (pulled back), exposing tooth-root surfaces that were covered at one time. Or, you may have an uneven gum line, meaning gum tissue covers some of your teeth more than others. All of these cosmetic gum problems can be successfully treated with cosmetic procedures performed in the dental office.
Cosmetic Gum Problems
Excess Tissue. A gummy smile can be caused by excessive gum tissue covering more enamel surface of a tooth's crown (upper portion) than normal. If that is the case, a procedure known as "crown lengthening" can be performed, in which gum tissue (and sometimes a small amount of bone tissue) is removed to expose more tooth surface.
Receding Gums. Sometimes your gums can shrink down (recede), exposing a portion of your tooth roots. This causes a cosmetic problem because root surfaces, which have no enamel covering, tend to appear more yellow than the crowns of your teeth. Also, exposed roots can be more sensitive to cold or touch, and can be at greater risk of decay. There are various gum-grafting procedures that can cover exposed roots, all of which involve moving gingival (gum) tissue from one site in the mouth to another. For example, roots can be covered with tissue from the roof of your mouth, which is of the same type; or adjacent (nearby) tissue can be moved over to cover an exposed root. Sometimes laboratory-processed tissue from another donor can even be used. All of these options can be discussed with you in more detail.
Uneven Gum Line. If you have an uneven gum line where some teeth are covered by more tissue than others, it is often possible to recontour (reshape) the tissue for a very pleasing effect. This can be done conventionally with a surgical scalpel or with newer dental laser technology. The advantage of a laser is that it seals the tissue as it sculpts it, making the procedure more comfortable and requiring a shorter healing time.
What to Expect
All cosmetic gum surgery can be performed at the dental office — and it usually requires only a local anesthetic (numbing shot). In fact, for laser surgery you may need only a topical anesthetic applied in gel form. If you would like a deeper level of relaxation, you can have oral or possibly even an IV sedative; but if this is required, you will need a ride home. Laser surgery leaves no open wounds and causes minimal, if any, discomfort, though the anatomy of the area may preclude laser use. An examination is required to determine whether conventional or laser treatment is in your best interests.
Grafts may take longer to heal, particularly if tissue is taken from the roof of your mouth. If that's the case, you will have two sites that need to heal: the donor site from which the tissue was taken, and the recipient site where the tissue was attached. Both of these sites will require stitches, usually of the dissolving type. You will need to eat a softer diet and avoid chewing on that side of your mouth for a few days. Though full healing may take a few weeks, you will be able to resume your normal activities the very next day. Whichever kind of cosmetic gum surgery you may need, the procedures are routine and predictable — and they can do wonders for your smile!
Related Articles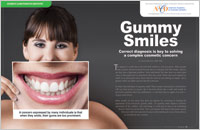 Gummy Smiles Sometimes a smile doesn't look as appealing as it could because the gums appear too prominent. If this describes your smile and it's something you want to change, chances are you can be helped by one of several available treatments. But first your dentist will need to determine exactly why your smile looks gummy to begin with. Find out the various causes and treatments... Read Article
Periodontal Plastic Surgery Millions of Americans have some degree of gum recession — a loss of the tough, pink tissue that surrounds teeth. Receding gums can cause anything from minor tooth sensitivity to tooth loss in very severe cases. Fortunately, the field of periodontal plastic surgery has made enormous strides in devising techniques, including grafting, to deal with the problem of lost or damaged gum tissue... Read Article