Sleep Apnea
Obstructive Sleep Apnea
Your sleep impacts every aspect of your health and daily life. Sleeping well helps you look, feel and perform your best. But a sleep problem can be harmful to your health and well-being. One of the most common sleep problems is obstructive sleep apnea. Learn more about the warning signs and how you can get help.
About Obstructive Sleep Apnea
Nearly 30 million adults in the U.S. have obstructive sleep apnea (OSA), which can cause them to stop breathing hundreds of times a night for anywhere from a few seconds to more than a minute.

Sleep apnea is a chronic condition that occurs when your muscles relax during sleep, allowing soft tissue to collapse and block the airway. As a result, repeated breathing pauses occur, which often reduce your oxygen levels. These breathing pauses are followed by brief awakenings that disturb your sleep.

Common signs of sleep apnea include snoring and gasping or choking sounds during sleep. Like snoring, sleep apnea is more common in men, but it can occur in women too, especially during and after menopause. Having excess body weight, a narrow airway or misaligned jaw all increase the risk of sleep apnea.
Is Treating OSA Important?
Treating obstructive sleep apnea is incredibly important to your health. When left untreated, sleep apnea often causes excessive daytime sleepiness or fatigue, as well as morning headaches and memory loss. Sleep apnea also is a threat to your safety as it increases your risk of drowsy driving and workplace accidents. Untreated sleep apnea raises your risk for serious health problems. These include:
High blood pressure
Stroke
Heart disease
Diabetes
Chronic acid reflux
Erectile dysfunction
Severe, untreated sleep apnea even increases your risk of death.
How is OSA Diagnosed?
Kleinheinz Dentistry is proud to offer a Free Sleep Study. Call our office for more information. 704-542-6003.
How is OSA Treated?
Dr. Kleinheinz can discuss treatment options with you. We will provide a FREE SLEEP STUDY at your convenience.
Oral appliance therapy uses a mouth guard-like device - worn only during sleep - to maintain an open, unobstructed airway.
Research shows that oral appliance therapy is an effective treatment option for snoring and obstructive sleep apnea. An oral appliance is worn in the mouth only while you sleep and fits like a sports mouth guard or an orthodontic retainer. Oral appliances support your jaw in a forward position to help maintain an open upper airway.

Many patients consider a sleep apnea appliance to be more comfortable to wear than a CPAP mask. Oral appliances also are quiet, portable and easy to care for.

If you decide that oral appliance therapy is the best treatment option for you, then Dr. Kleinheinz will recommend a prescription for you to receive a custom-made sleep apnea appliance. More than 100 oral appliances have received FDA clearance. We prescribe and make the FDA approved appliances. Oral appliance therapy is covered by many medical insurance plans. We will do a complete benefits check upon your scheduled appointment.
Your first appointment is an exciting time! It's a chance for you to learn about the treatments and services that can help give you the best smile possible. It all starts with the initial consultation.
You should plan to spend at least an hour at the first visit. That's to ensure that no one has to rush, and that you get plenty of time to ask any questions you may have. You will meet one of the receptionists or patient coordinators, who will take some information from you and bring you through the office. Then it's time for some diagnostic work and an exam.
Making a Plan
A big part of the first visit is to determine what treatment is necessary to correct any problems found — and whether to begin now, or wait until a later time. The procedure starts by taking a set of regular photographs of the teeth in their present state. Next, a series of radiographic (X-ray) images will be taken. These show what's going on underneath the gums: the position and growth of bones and joints, and the teeth that are still below the gum line.
In some cases, an impression (mold) of the teeth is also taken to create an exact replica of the bite. This helps reveal exactly what the problem is and how best to treat it. The impression is made by biting down on some soft putty-like material for a few moments; then it's removed.
After that, it's time for the exam. Besides looking in the mouth, we you may be asked questions, such as whether the jaws make noise when the mouth is opening or closing, or if there are any problems chewing or swallowing. Taken together, this information will yield a proper diagnosis so a treatment plan can be finalized at the first visit.
Discussing Your Treatment Options
Following the exam, you may be told that things are just fine — or, treatment may be recommended. It might begin right away or at a later time, depending on the developmental stage of the teeth and jaws. Many times, you'll be advised to return for periodic checkups until it's time to start.
Whether you're starting now or later, the first visit is the best time to ask questions about the process. Topics to discuss include treatment choices, what to expect at the different stages of the process, and any of the following:
Can orthodontic treatment benefit me (or my child)?
What general procedures will be used to correct the problem?
Are any options available (or recommended) for my treatment?
Should I get treatment now, or is it better to wait?
Will tooth extraction be necessary?
How much does treatment cost? Are payment plans available?
How long do you expect treatment should take?
When you leave the office, you should have a better understanding of how you can get the best possible smile.
Related Articles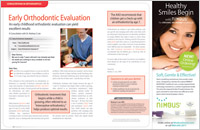 Early Orthodontic Evaluation Early detection of orthodontic problems in young children may make it easier to correct those problems in the long run. Waiting until all of the permanent (adult) teeth have come in, or until facial growth is nearly complete, may make correction of some problems more difficult or even impossible. An early childhood orthodontic evaluation can yield excellent results... Read Article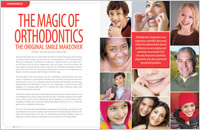 The Magic of Orthodontics Proper alignment of the teeth is basic to "Smile Design." Their position dictates how they work together and affects the way you look and smile. Only orthodontic treatment can move teeth into the right position. Simply put, when things look right, they probably are right. Learn the basics of smile analysis and design and whether the magic of orthodontics will work for you... Read Article