Sleep Apnea
Obstructive Sleep Apnea
Your sleep impacts every aspect of your health and daily life. Sleeping well helps you look, feel and perform your best. But a sleep problem can be harmful to your health and well-being. One of the most common sleep problems is obstructive sleep apnea. Learn more about the warning signs and how you can get help.
About Obstructive Sleep Apnea
Nearly 30 million adults in the U.S. have obstructive sleep apnea (OSA), which can cause them to stop breathing hundreds of times a night for anywhere from a few seconds to more than a minute.

Sleep apnea is a chronic condition that occurs when your muscles relax during sleep, allowing soft tissue to collapse and block the airway. As a result, repeated breathing pauses occur, which often reduce your oxygen levels. These breathing pauses are followed by brief awakenings that disturb your sleep.

Common signs of sleep apnea include snoring and gasping or choking sounds during sleep. Like snoring, sleep apnea is more common in men, but it can occur in women too, especially during and after menopause. Having excess body weight, a narrow airway or misaligned jaw all increase the risk of sleep apnea.
Is Treating OSA Important?
Treating obstructive sleep apnea is incredibly important to your health. When left untreated, sleep apnea often causes excessive daytime sleepiness or fatigue, as well as morning headaches and memory loss. Sleep apnea also is a threat to your safety as it increases your risk of drowsy driving and workplace accidents. Untreated sleep apnea raises your risk for serious health problems. These include:
High blood pressure
Stroke
Heart disease
Diabetes
Chronic acid reflux
Erectile dysfunction
Severe, untreated sleep apnea even increases your risk of death.
How is OSA Diagnosed?
Kleinheinz Dentistry is proud to offer a Free Sleep Study. Call our office for more information. 704-542-6003.
How is OSA Treated?
Dr. Kleinheinz can discuss treatment options with you. We will provide a FREE SLEEP STUDY at your convenience.
Oral appliance therapy uses a mouth guard-like device - worn only during sleep - to maintain an open, unobstructed airway.
Research shows that oral appliance therapy is an effective treatment option for snoring and obstructive sleep apnea. An oral appliance is worn in the mouth only while you sleep and fits like a sports mouth guard or an orthodontic retainer. Oral appliances support your jaw in a forward position to help maintain an open upper airway.

Many patients consider a sleep apnea appliance to be more comfortable to wear than a CPAP mask. Oral appliances also are quiet, portable and easy to care for.

If you decide that oral appliance therapy is the best treatment option for you, then Dr. Kleinheinz will recommend a prescription for you to receive a custom-made sleep apnea appliance. More than 100 oral appliances have received FDA clearance. We prescribe and make the FDA approved appliances. Oral appliance therapy is covered by many medical insurance plans. We will do a complete benefits check upon your scheduled appointment.
People don't generally think of a dentist as the healthcare professional to see for recurring headaches or migraines; yet dentists can play a role in diagnosing and even treating your condition. That's because quite often, recurring pain that is felt in the area of the temples on the sides of the head is actually caused by unconscious habits of clenching and/or grinding the teeth. These habits, which often manifest during sleep, put tremendous pressure on the muscles that work your jaw joint, also called the temporomandibular joint (TMJ).
The fan-shaped temporalis muscles located over your temples on either side of your head are two of several muscles involved in jaw movement. You can easily feel them working if you put your fingertips on your temples while clenching and unclenching your jaw. When temporalis muscles go into spasm from too much clenching, headache symptoms may result. This is not to say that headaches and migraines are always caused by TMJ problems, also known as temporomandibular disorders (TMD). But given the established link between them, it definitely bears looking into — especially if a diagnosis remains elusive in your case.
Sources of Relief
The first thing you need is a thorough oral exam to determine if there is evidence of a clenching or grinding (also known as "bruxing") habit or TMD. If so, there are things you can do for immediate and long-term relief. Sometimes eating softer foods for a few days can reduce stress on the muscles and joints. Ice and/or moist heat can help relieve soreness and inflammation. Gentle stretching exercises, non-steroidal anti-inflammatory medications such as ibuprofen, and muscle relaxants can also provide relief.
Finally, a custom-made nightguard to wear when you sleep might be recommended. This plastic oral appliance, which fits over the teeth, can control or even eliminate clenching and grinding, reducing pressure on the muscles that work the jaw and the jaw joint itself. Some users have reported that their headaches or even migraines are less frequent and/or less intense.
Will a nightguard or other TMD therapy relieve your headaches? It depends on the source of the problem. But living with chronic headaches or facial pain is no fun — so don't delay scheduling an exam and a consultation.
Related Articles
TMD – The Great Impostor This "chameleon" of dental disorders manifests in a variety of ways, including joint pain, sinusitus, ear pain, tooth and headaches. Dear Doctor magazine examines the causes of TMD, its signs and symptoms and what can be done to treat this common disorder... Read Article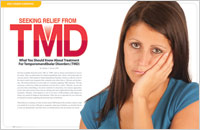 Seeking Relief From TMD TMD, or Temporomandibular Disorders, is an umbrella term for various painful conditions that affect the jaw joints. There are different treatment approaches to TMD problems, but not all are based on science. It's important to be up on the latest information and to be an educated consumer. In this comprehensive article, Dear Doctor magazine provides state-of-the-art information and guidance on what you should know, whom you should see, and what you should ask... Read Article