Sleep Apnea
Obstructive Sleep Apnea
Your sleep impacts every aspect of your health and daily life. Sleeping well helps you look, feel and perform your best. But a sleep problem can be harmful to your health and well-being. One of the most common sleep problems is obstructive sleep apnea. Learn more about the warning signs and how you can get help.
About Obstructive Sleep Apnea
Nearly 30 million adults in the U.S. have obstructive sleep apnea (OSA), which can cause them to stop breathing hundreds of times a night for anywhere from a few seconds to more than a minute.

Sleep apnea is a chronic condition that occurs when your muscles relax during sleep, allowing soft tissue to collapse and block the airway. As a result, repeated breathing pauses occur, which often reduce your oxygen levels. These breathing pauses are followed by brief awakenings that disturb your sleep.

Common signs of sleep apnea include snoring and gasping or choking sounds during sleep. Like snoring, sleep apnea is more common in men, but it can occur in women too, especially during and after menopause. Having excess body weight, a narrow airway or misaligned jaw all increase the risk of sleep apnea.
Is Treating OSA Important?
Treating obstructive sleep apnea is incredibly important to your health. When left untreated, sleep apnea often causes excessive daytime sleepiness or fatigue, as well as morning headaches and memory loss. Sleep apnea also is a threat to your safety as it increases your risk of drowsy driving and workplace accidents. Untreated sleep apnea raises your risk for serious health problems. These include:
High blood pressure
Stroke
Heart disease
Diabetes
Chronic acid reflux
Erectile dysfunction
Severe, untreated sleep apnea even increases your risk of death.
How is OSA Diagnosed?
Kleinheinz Dentistry is proud to offer a Free Sleep Study. Call our office for more information. 704-542-6003.
How is OSA Treated?
Dr. Kleinheinz can discuss treatment options with you. We will provide a FREE SLEEP STUDY at your convenience.
Oral appliance therapy uses a mouth guard-like device - worn only during sleep - to maintain an open, unobstructed airway.
Research shows that oral appliance therapy is an effective treatment option for snoring and obstructive sleep apnea. An oral appliance is worn in the mouth only while you sleep and fits like a sports mouth guard or an orthodontic retainer. Oral appliances support your jaw in a forward position to help maintain an open upper airway.

Many patients consider a sleep apnea appliance to be more comfortable to wear than a CPAP mask. Oral appliances also are quiet, portable and easy to care for.

If you decide that oral appliance therapy is the best treatment option for you, then Dr. Kleinheinz will recommend a prescription for you to receive a custom-made sleep apnea appliance. More than 100 oral appliances have received FDA clearance. We prescribe and make the FDA approved appliances. Oral appliance therapy is covered by many medical insurance plans. We will do a complete benefits check upon your scheduled appointment.
Bad Breath, or halitosis, is an embarrassing problem that affects millions. To combat it, many people use breath mints, chewing gum, sprays and mouthwashes. In fact, Americans spend billions of dollars each year on these products — even though they offer only a temporary fix. Getting rid of persistent foul odors on the breath in a lasting way requires a little detective work on the part of dental professionals.
Bad breath can affect anyone temporarily — think of "morning breath," or the way your mouth smells after eating onions or drinking coffee. Some people, however, exhale noticeably unpleasant odors throughout the day, every day. That's when it is important to find the cause of the problem, so a lasting solution can be achieved.
Causes
Most often, bad breath originates in the mouth, from trapped food particles that are then processed by oral bacteria. The most common location for mouth-related bad breath is the back of the tongue, where large quantities of naturally occurring bacteria can thrive on food remnants, dead skin cells and post-nasal drip (mucus coming down your throat from the nose). The waste products of these bacteria include volatile sulfur compounds (VSCs), which have a smell resembling rotten eggs. Other places where bacteria and food particles can be trapped are between the teeth, beneath the gums, and in oral appliances or dentures. Poor oral hygiene sets the stage for these problems, as well as for tooth decay and gum disease, which can also cause foul odors.
It's possible for other health conditions and habits to affect your breath. Halitosis may occur in people who have a sinus or bronchial infection, an oral yeast infection (which can be caused by antibiotic use), or even a systemic (general body) disease such as diabetes, kidney failure or a liver malfunction. A chronically dry mouth (xerostomia), which is often a side effect of certain medications, and tobacco use can also contribute to this problem. Even stress, dieting and hormonal changes can affect your breath.
How Dentistry Can Help
Since bad breath most often originates in the mouth, the dental office is the best place to start in your quest for consistently better-smelling breath. After a thorough examination, any of the following might be recommended:
Oral hygiene instruction. It might be that you could benefit from a demonstration of how to brush and floss more effectively, or how to better clean your dentures. You can also be instructed on how to use a tongue scraper to clean the back of your tongue if necessary.
Professional dental cleaning. Food particles, bacteria and calcified deposits can become trapped where you can't reach them — but special dental instruments can. Regular professional cleanings are a great way to promote good oral health in general and good-smelling breath in particular.
Treatment of tooth decay. Bad breath may be caused by large, open cavities that need to be filled, or old, defective fillings that need to be repaired.
Treatment of gum disease. More advanced forms of gum disease cause the gums to separate from the teeth, forming pockets in which bacteria can thrive. If you have gum disease, you may need periodontal (gum) therapy, which can include a deep cleaning of the roots of your teeth, antibiotics, and, in advanced cases, periodontal surgery.
Treatment of infection. Infection that doesn't originate in your mouth needs to be treated by the appropriate medical professional. Whatever the cause of your bad breath, we are here to make sure you get the treatment you need.
Related Articles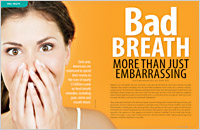 Bad Breath Bad breath has a significant impact both personally and socially on those who suffer from it, as well as those on the receiving end. It may be the result of poor oral hygiene, or a sign of a more serious underlying condition. Find out what causes bad breath and what you can do about it... Read Article
Oral Hygiene Behavior — Dental Health for Life The best tools for maintaining your oral health and minimizing dental problems are a quality toothbrush, toothpaste, a roll of dental floss, approved mouthwash and good diet. This article details a winning game plan for oral health... Read Article