Sleep Apnea
Obstructive Sleep Apnea
Your sleep impacts every aspect of your health and daily life. Sleeping well helps you look, feel and perform your best. But a sleep problem can be harmful to your health and well-being. One of the most common sleep problems is obstructive sleep apnea. Learn more about the warning signs and how you can get help.
About Obstructive Sleep Apnea
Nearly 30 million adults in the U.S. have obstructive sleep apnea (OSA), which can cause them to stop breathing hundreds of times a night for anywhere from a few seconds to more than a minute.

Sleep apnea is a chronic condition that occurs when your muscles relax during sleep, allowing soft tissue to collapse and block the airway. As a result, repeated breathing pauses occur, which often reduce your oxygen levels. These breathing pauses are followed by brief awakenings that disturb your sleep.

Common signs of sleep apnea include snoring and gasping or choking sounds during sleep. Like snoring, sleep apnea is more common in men, but it can occur in women too, especially during and after menopause. Having excess body weight, a narrow airway or misaligned jaw all increase the risk of sleep apnea.
Is Treating OSA Important?
Treating obstructive sleep apnea is incredibly important to your health. When left untreated, sleep apnea often causes excessive daytime sleepiness or fatigue, as well as morning headaches and memory loss. Sleep apnea also is a threat to your safety as it increases your risk of drowsy driving and workplace accidents. Untreated sleep apnea raises your risk for serious health problems. These include:
High blood pressure
Stroke
Heart disease
Diabetes
Chronic acid reflux
Erectile dysfunction
Severe, untreated sleep apnea even increases your risk of death.
How is OSA Diagnosed?
Kleinheinz Dentistry is proud to offer a Free Sleep Study. Call our office for more information. 704-542-6003.
How is OSA Treated?
Dr. Kleinheinz can discuss treatment options with you. We will provide a FREE SLEEP STUDY at your convenience.
Oral appliance therapy uses a mouth guard-like device - worn only during sleep - to maintain an open, unobstructed airway.
Research shows that oral appliance therapy is an effective treatment option for snoring and obstructive sleep apnea. An oral appliance is worn in the mouth only while you sleep and fits like a sports mouth guard or an orthodontic retainer. Oral appliances support your jaw in a forward position to help maintain an open upper airway.

Many patients consider a sleep apnea appliance to be more comfortable to wear than a CPAP mask. Oral appliances also are quiet, portable and easy to care for.

If you decide that oral appliance therapy is the best treatment option for you, then Dr. Kleinheinz will recommend a prescription for you to receive a custom-made sleep apnea appliance. More than 100 oral appliances have received FDA clearance. We prescribe and make the FDA approved appliances. Oral appliance therapy is covered by many medical insurance plans. We will do a complete benefits check upon your scheduled appointment.
Most of the time, root canal therapy is effective at permanently relieving tooth pain and halting infection of the soft tissues deep inside the teeth and gums. But occasionally, as in any medical procedure, the body may not heal as we expect it to. After a period of time, you may experience pain in the affected tooth again — or, even if you have no symptoms, x-rays may reveal that infection is still present near the tooth's roots. In that case, you may need root canal retreatment.
There are several reasons why your root canal treatment may not have succeeded at first. The "canals" themselves are slender, forking passageways deep inside the tooth that enclose nerves and blood vessels: the tooth's soft "pulp." They can be so narrow and intricate that some may have gone undetected, or failed to respond to treatment the first time. Or, the canals might have become recontaminated via a number of routes: a delayed or ineffective crown restoration, new tooth decay, advancing gum disease, or a cracked or fractured tooth. Any of these conditions could result in reinfection.
If initial root canal (endodontic) therapy has failed, the first thing to do is evaluate your options. Besides retreatment, the alternatives may include endodontic surgery or extraction (removal) of the tooth. However, a missing tooth should be replaced by a dental implant, a bridge or a partial denture as soon as possible — and none of these are simple or inexpensive options. That's part of the reason we prefer to help you retain your natural teeth whenever possible.
The Retreatment Procedure
If endodontic retreatment is appropriate for you, the procedure is similar to a routine root canal, with a few added measures. After you are anesthetized (usually with a numbing shot), any restorations presently on your tooth — crowns, for example — will be altered to provide access to the root canal filling material. This is usually accomplished by making a small opening into the inner part of the tooth, removing filling material or obstructions, and cleaning the pulp chambers with tiny instruments.
A microscope and light are used to search carefully for additional canals or unusual structures. If the treatment process becomes extremely complex, it may be finished in a subsequent visit. Finally, when all the canals have been cleaned and disinfected, they will be filled with inert material and sealed. Then a temporary filling will be placed in the tooth. A permanent restoration will need to be placed at a later time.
Is Root Canal Retreatment My Best Option?
Medicine and dentistry are as much art as science, and neither one can guarantee that any procedure will be 100% successful. While endodontic retreatment can be more complex than initial root canal therapy, it offers a good chance of success in many instances. And, since the field of endodontics is constantly evolving, it may be possible to use new techniques that weren't available when your first root canal procedure was done.
Dentists take seriously our responsibility to help you understand the risks, benefits and alternatives for treating root canal problems. When we recommend retreatment, it's because we feel it is the best way for you to preserve your natural teeth — and we want you to be able to enjoy them for many years to come.
Related Articles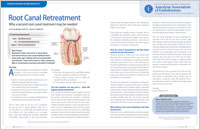 Root Canal Retreatment As occasionally happens with any dental or medical procedure, a tooth may not heal as anticipated after a root canal treatment. In these cases, it's often possible to save the tooth with a second root canal procedure... Read Article