Sleep Apnea
Obstructive Sleep Apnea
Your sleep impacts every aspect of your health and daily life. Sleeping well helps you look, feel and perform your best. But a sleep problem can be harmful to your health and well-being. One of the most common sleep problems is obstructive sleep apnea. Learn more about the warning signs and how you can get help.
About Obstructive Sleep Apnea
Nearly 30 million adults in the U.S. have obstructive sleep apnea (OSA), which can cause them to stop breathing hundreds of times a night for anywhere from a few seconds to more than a minute.

Sleep apnea is a chronic condition that occurs when your muscles relax during sleep, allowing soft tissue to collapse and block the airway. As a result, repeated breathing pauses occur, which often reduce your oxygen levels. These breathing pauses are followed by brief awakenings that disturb your sleep.

Common signs of sleep apnea include snoring and gasping or choking sounds during sleep. Like snoring, sleep apnea is more common in men, but it can occur in women too, especially during and after menopause. Having excess body weight, a narrow airway or misaligned jaw all increase the risk of sleep apnea.
Is Treating OSA Important?
Treating obstructive sleep apnea is incredibly important to your health. When left untreated, sleep apnea often causes excessive daytime sleepiness or fatigue, as well as morning headaches and memory loss. Sleep apnea also is a threat to your safety as it increases your risk of drowsy driving and workplace accidents. Untreated sleep apnea raises your risk for serious health problems. These include:
High blood pressure
Stroke
Heart disease
Diabetes
Chronic acid reflux
Erectile dysfunction
Severe, untreated sleep apnea even increases your risk of death.
How is OSA Diagnosed?
Kleinheinz Dentistry is proud to offer a Free Sleep Study. Call our office for more information. 704-542-6003.
How is OSA Treated?
Dr. Kleinheinz can discuss treatment options with you. We will provide a FREE SLEEP STUDY at your convenience.
Oral appliance therapy uses a mouth guard-like device - worn only during sleep - to maintain an open, unobstructed airway.
Research shows that oral appliance therapy is an effective treatment option for snoring and obstructive sleep apnea. An oral appliance is worn in the mouth only while you sleep and fits like a sports mouth guard or an orthodontic retainer. Oral appliances support your jaw in a forward position to help maintain an open upper airway.

Many patients consider a sleep apnea appliance to be more comfortable to wear than a CPAP mask. Oral appliances also are quiet, portable and easy to care for.

If you decide that oral appliance therapy is the best treatment option for you, then Dr. Kleinheinz will recommend a prescription for you to receive a custom-made sleep apnea appliance. More than 100 oral appliances have received FDA clearance. We prescribe and make the FDA approved appliances. Oral appliance therapy is covered by many medical insurance plans. We will do a complete benefits check upon your scheduled appointment.
When you experience pain in your mouth, it's sometimes abundantly clear which tooth is causing it. At other times, the sensation of discomfort is more diffuse, generalized or hard to pinpoint. On occasion, it can even be challenging to determine exactly what problem or combination of problems is causing the symptoms you're experiencing. This may be the case when an infection exists in the root canals of a tooth as well as the gum tissue adjacent to it.
In this situation, the infection may have begun in the pulp of the tooth itself; or, it may have started in the gums. Over time, it has spread from one location to the other — and now it's causing a confusing set of symptoms that are difficult to sort out. Regardless of where the problem started, a thorough analysis will be necessary before treatment can begin, to give you the best chance of saving the tooth.
Confusing Symptoms
From time to time, many people experience oral discomfort that's dull or intermittent. Occasionally, a more insistent pain may be triggered by a stimulus like temperature (from hot or cold foods or beverages) or pressure (from biting down on something). Sometimes, it may feel as though the ache is coming from a group of teeth rather than one single tooth — or even from the sinus area above the back teeth.
These symptoms can indicate a number of dental issues, including root canal and gum problems, and shouldn't be disregarded. However, if you manage to ignore the acute pain, in many cases it will fade in time. But this isn't good news: It generally means that the infected tissue in the pulp of your tooth has died, and the nerve is no longer functioning. That's when the problem may become more serious.
Chicken or Egg?
When the pulp tissue inside your tooth becomes severely infected, it's possible for the disease to move through openings at the end (apex) of the root, and outside of the tooth. It can then spread to the periodontal ligament, which anchors the tooth to the surrounding bone and gum tissue. From there, the infection may extend to the gum tissue and cause periodontal disease, or even result in a painful gum abscess. At that point, you may have pain — even severe pain that will let you know exactly which tooth is affected.
But it's also possible for the infection to be spread by the exact opposite pathway. In this case, an infection that originated in the gums (commonly due to periodontal disease caused by a buildup of plaque) may have has traveled through small passageways called accessory canals, which are located in between a tooth's roots, or on the sides of the roots. The infection can then extend into the tooth's pulp. If your teeth are fractured, it's even easier for disease to spread.
Treatment Methods
When dental problems involves both root canals and gum disease, saving the affected tooth can prove challenging. This is when it matters where the infection started: If it's primarily a root-canal problem that later moved into the gums, the outlook for the tooth is reasonably positive if it receives immediate treatment. If gum disease came first, however, the prospects often aren't as good; by the time the infection has moved into the tooth, it's possible that much bone has already been lost, making the tooth's long-term prognosis poor.
In either case, the cause of the tooth pain will need to be diagnosed and an effective treatment plan developed. The sooner that happens, the better: Root canal and gum problems simply don't get better on their own.
Related Articles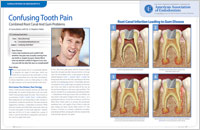 Confusing Tooth Pain It is occasionally difficult to pinpoint the origin of tooth pain, which can result from an infection of the tooth itself, or of the gum, or even spread from one to the other. Nevertheless, it's always important to sort out what's going on so that the right treatment can be selected and the tooth saved... Read Article